NOVOX
An evolution in the elaboration of dental models.
If you are tired of cleaning the dust that plaster leaves in your laboratory, if you have to be always trying a new plaster to see if you can speed up the production of your models, if you cannot find a plaster that can reproduces the impression of your models faithfully to ensure that your work will be as good as you planned, you should try NOVOX.
YOU NEED IT IN YOUR LABORATORY!
The NOVOX is not only another product to make your dental models but a tool with countless advantages to speed up, improve and add much more quality to you work.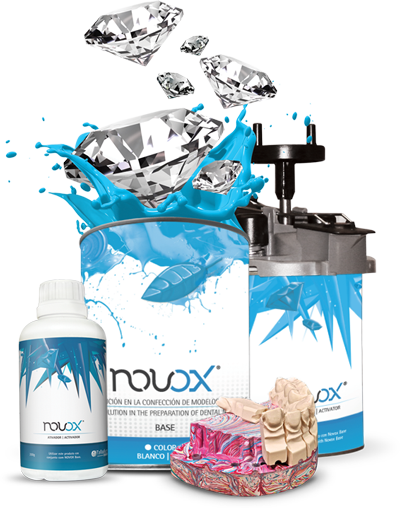 MIXING COMPONENTS
Clean and dry the impression with blast of air.
It is necessary to mix Novox Base to homogenize, as it is normal if some particles are sedimented. Mix it with a properly dried plastic spatula for 30 seconds.
Once the previous step is done, place it in a measuring cup the amount of Novox Base that will be used in the model and add the amount of NOVOX Dye you think that is necessary, mixing until reach the desired colour.
After that, using a dosing syringe take the quantity of Novox Activator, following the indicated proportion, and add it to the Novox Base in the measuring cup, mix it for 20 seconds.
Immediately, drop the content in a pattern using a vibrator to avoid the creation of air bubbles in the model. Wait 30 minutes and ready. Remove from the pattern.
---
Proportion of use:
For each 10 ml of Novox Base add 2,7 ml of Novox Activator.
Recommendation:
Use a total of 20 to 40 ml per work, according to the size of the arch.
IMPORTANT
BEFORE OPENING THE PRODUCT: To use NOVOX is indispensable to dry properly all containers, moulds and instruments. Ignoring this recommendation may result in contamination of the product, exempting supplier from any liability.
MAKING A MASTER MODEL OR COMPLETE ARCH
Clean and dry the impression with blast of air and cotton.
As the Novox is extremely fluid when necessary close the pattern with wax or molding paste so the liquid does not flow out of the possible gaps.
Mix the components as described in the item "Mixing components" and drop the liquid in the impression, taking care to fill one element at a time to avoid the formation of air bubbles.
Wait 30 minutes to dismantle.
Proceed just like with the plaster to cut or adjust the Novox model, use saw, diamond discs and tungsten drills. You will note that it has a lot of advantages comparing with plaster models.
Importante Never use Novox in alginate or hydrocolloid impressions.
---
Both Novox Base and Novox Activator must be mixed at 18ºC of temperature according to the indicated proportion.
---
Before utilization, make sure the pattern or mould is free of any water residue or humidity before pouring on the model.
---
After each utilization, the Novox container must be kept always closed and in a dry and humidity-free place.
---
To maintain the properties of the product, use always stainless or plastic spatulas, wood spatulas after washing always keep some vestige of humidity and may contaminate the product.
IMPORTANT
Remove all residue of water or humidity before pouring on the pattern.
The total solidification and maximum resistance are obtained after 30 minutes.
WARNING
Base and activator:
Causes eyes, skin and respiratory system irritation, do not ingest, keep out of reach of children.
Safety Data Sheet
HANDLING AND PERSONAL PROTECTION
Wear appropriate personal protective equipment (safety glasses and gloves).
Wear protective masks if the place of manipulation is not well ventilated. The product does not cause irritation or awareness if used as specified.
In the case of:
Inhalation: breath fresh air, if necessary, artificial respiration.
Skin contact: wash with abundant water and soap.
Eye contact: wash with abundant water.
Ingestion: Do not provoke vomit. Any discomfort due to the use of the product, consult the doctor.
WARNING
Base and Activator:
Causes eyes, skin and respiratory system irritation, do not indigest, keep out of reach of children.
Activator:
Harmful by inhalation.
STORAGE CONDITIONS
Store in a completely dry, dark and ventilated place, and in its original closed container at between 15 and 25ºC of temperature. Once opened keep it hermetically closed and in its original containers in a fresh and ventilated place free of humidity.
Protect from light and humidity.
DISPOSAL OF WASTE
Nonbiodegradable product.
Do not dispose in household garbage or sewage. Eliminate the product through incineration or appropriate landfill.
European waste catalog:
May 8, 01. Residual isocyanates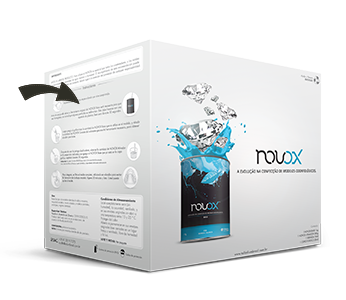 ---
If you read the INSTRUCTIONS OF USE on the package, then you know that BEFORE OPENING your NOVOX kit, you have to check that the tools and pattern are completely FREE of any RESIDUAL WATER and HUMIDITY.
It is essential to use the blades for easier handling, HOMOGENISATION, to PRESERVE and especially to SAVE the product.
First of all, put on disposable gloves.
USING NOVOX
---
01

With NOVOX in your hands, mix the base using the blades during 30 seconds to homogenize it.

02

Put the necessary amount of NOVOX BASE in the measuring cup to elaborate the model.

Note: it may vary between 20 and 40 ml.

03

Define the amount according to the size of the model and add the Activator in the measuring cup following the proportion:
For each 10 ml of Base + 2,7 ml of Activator. (Proportion in grams: 2g of Activator for each 10g of Base).

Ex.: If you use 30 ml of Base you must add 8,1 ml of Activator.

Remember: Use only models of addition and condensation silicone.
Note: Never put the Activator inside the NOVOX recipient.

04

If you want to customize your model with a special color, add the desired color of Novox Die and mix all ingredients for 30 seconds, then pour into the pattern.

You have 1 minute and 30 seconds to pour it after mixing with the Activator.

05

Wait 30 minutes for the completely solidification and ready!

Tips

Use solid petroleum jelly to insulate the die.
If you want to make the base of the model with another color, wait 15 minutes until it dries and add the new mix with the desired color.
You can also make it with a plaster base, just wait for the setting and then create mechanical retentions in the model with the drill

.
PROPERTIES
Mechanical properties at 23ºC (1)
| | | | |
| --- | --- | --- | --- |
| Hardness | ISO 868-85 | Shore D | 80 |
| Elasticity in flexure | ISO 178-93 | MPa | 5.000 |
| Bend Strength | ISO 178-93 | MPa | 50 |
| Traction resistance | ISO 527-96 | MPa | 24 |
| Compression resistance | ISO 604-97 | MPa | 62 |
*(1): mean values obtained in standardized samples / Solidification 7 hours at 23ºC
---
Specific properties
Time mixing Novox base + Activator
Manually 30 seconds
With the mixer 15 seconds
Working time
2 minutes
Solidification time
30 minutes
Linear shrinkage (until 50 mm thickness)(2)
0,0%
Linear expansion (until 50 mm thickness)(2)
0,0%
*(2): as in the dental models the dimensions of the dental elements are smaller than 50 mm, there is not enough material to cause a considerably exothermic reaction, so the contraction and expansion is negligible and tends to be zero.
FAQ
Where NOVOX may NOT be poured?
NOVOX may not be poured on Polyester (Permalastic, Impregum) and Alginates.
---
Why NOVOX may not be poured on alginate?
That the alginate is made from water, and water cannot, in any way, be used when preparing Novox.
---
Is it easy to cut Novox?
Yes, it can be cut easily, using a normal humid or dry trimmer or the same cut-off wheels used for plaster.
---
How to make a Novox die model?
The procedure is the same of plaster but it is easier and with more predictability.
---
What type of burs should I use?
You can use the same burs that you use for plaster (carbide, tungsten, diamond, etc.)
---
Can I add the Activator in the Novox container?
NO, you should never add the Activator inside the Novox container; the product would be completely solid what would disable the Novox permanently. The Activator must only be added in the measuring cup when preparing the model individually with the indicated proportion of: 2,7 ml of Activator for each 10 ml of Base (2g of Activator for each 10g of Base). For any questions, refer to the product's instructions of use or you can also watch the video of preparation or see the step by step instructions on the website.
---
Does the product can get out by possible openings?
Yes, Due to its fluidity it is recommended to seal the pattern with wax or plasticine.